Number Lottery Director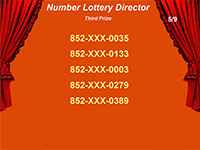 With Number Lottery Director you can create and manage your own lottery with numbers, texts. It is a perfect tool for evening and party. A lottery contains up to 99 scenes with certain sequence, every scene has its own title, subtitle, picture, music, number group and so on. Random winners are drawn from the number group in each scene, you can set winner quantity and winner columns in each scene, both font and color of winners, title, subtitle can be changed.
You can create lottery with different style and make the lottery attractive and effective. A demo lottery is included in the installation package, it will help you learn how to create a lottery.
---
Features:
Create and manage unlimited lottery projects.
There can be up to 99 scenes in a lottery.
Dual monitors are supported.
Each scene has it's own music file, supported audio format including MP3, WAV, WMA, MP4, M4A, AC3, OGG, FLAC, AAC, AU, VOC, M3U.
Each scene has it's own picture, supported picture format including BMP, JPG.
Each scene has it's own title and subtitle with different font and color.
Each scene has it's own source number group.
Layout of lottery is configurable.
Rolling number before winners are drawn.
Optional animation before winners shown.
Draw all or part of winners every time.
Continue an uncompleted lottery.
View winners already drawn in current scene.
Winners in each scene can be arranged up to 20 columns.
Preview is supported, it will help you to check if all data is set correctly.
Supports import numbers (or text) from text file and Excel file.
Supports batch creating number with pattern and wildcard.
Part of winner's number can be replaced with other characters.
There will not be duplicate winners in a lottery.
Export winners to text file or Excel file.
Once a lottery is created, it can be reused.
Winners are saved to database, you can query them at any time.

Download Trial
The trial version allows you to evaluate all features of Number Lottery Director. There will be a nag screen and trial marker in trial version.
Download Trial
User Guide (PDF)
User Guide (online)
System Requirements:
Windows XP(SP3)/Vista/7/8/10/11.
256M RAM or above.
100M disk space or above.
User Guide:

Purchase
Single User License (3 activation codes in lifetime, the activation code is hardware locked).
The upgrade is free for registered users.

Buy Now